KeyTerm® KB4020
KeyTerm® devices are designed as a low cost solution to allow "Remote Request" features of DNC systems to be used on controls that do not have full alpha/numeric keyboards. They can also be useful on controls that accept RS232 input, but do not have the ability to send.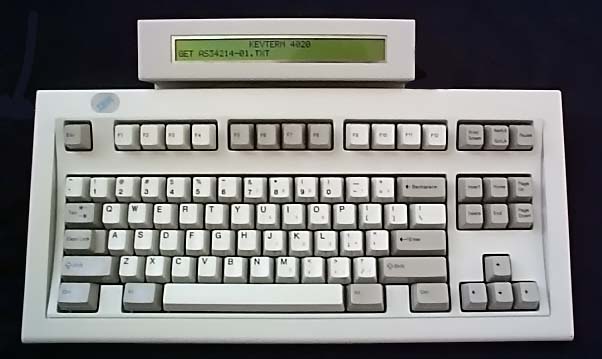 This total package solution uses a standard IBM Industrial Grade keyboard, a large high contrast LCD display and an RS-232 wedge. All KeyTerm devices plug in-line and will not interfere with existing RS232 communications. They can be used with most DNC applications.
As a wedge device the KeyTerm will not interfere with existing RS232 communications.

Uses a standard IBM® PC Industrial Grade keyboard.

Function Keys are pre-programmed with the most used commands

| | |
| --- | --- |
| | (GET-DNC-SAVE-...) |

Has a large 40 x 2 character LCD display

The KeyTerm can be used with controls that use a BTR to communicate.

The LCD module can be detached and mounted separate from the keyboard.

Optional PowerScan™ or card reader input devices are also available.