Upgrading to network-based DNC cut production overtime from 523 hours per week to 120 hours, a 77% reduction.
IMC Magnetics (Tempe, AZ), a subsidiary of the Minebea Group, is a recognized leader in the design, development, and manufacture of quality solenoids. For more than 40 years, IMC has built its reputation serving aerospace and military avionics. As with most companies, the need to improve efficiency, speed, and quality are of the utmost importance. In those regards, IMC discovered three major problems: 523 hours of overtime per week; lengthy product backlogs; and increased numbers of scrapped parts.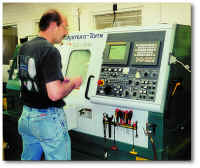 In an effort to make their manufacturing more efficient through standardized production, IMC needed to take two important steps: change tooling, and improve DNC (direct or distributed numerical control) communication with controlled standardization of files.
IMC decided that a standardized DNC communication system should be the first step. Richard Nichols, IMC's manufacturing team leader, describes his former DNC communications as a laptop with a DOS program that he moved around the shop. Nichols noted that there was no standardization in NC files, resulting in a lack of consistent information in the shop. For example, when an operator called in sick, some parts just could not be produced on certain machines because of the reliance on specific parts information known only to that operator.
Another problem was that there were multiple NC files that contained similar information with the same file number and name. Nichols says, "We had no way of controlling this problem since everyone had access to the laptop and all the files contained on it. We could pull up as many as 20 NC files with the same name. The IMC engineering group had no way of determining the correct file. The night shift would run the program one way, and the day shift would apply a different technique.
"To make matters worse," he continues, "laptops were damaged by being dropped, or by not withstanding the shop environment. All of these problems resulted in an increased cycle and setup time. The results were late deliveries, slashed profits, increased overhead, and decreased cash flow."
Nichols became convinced more than ever that a DNC communications system was absolutely necessary. As a result, IMC called in the top DNC communications companies to demonstrate their software and provide bids. Their features were evaluated, such as: compare files, remote request, user management, user rights, and tool management.
"We were very impressed with eXtremeDNC by Ascendant Technologies, Inc. (Yorba Linda, CA)," says Nichols. "The software is able to manage user rights, quickly compare files, and maintain complete control over the entire NC Filing system, all on the fly with live communications to all the machines. In addition, Ascendant Technologies was able to provide quick installation and thorough training not offered by other bidders."
With the installation of eXtremeDNC and standardization, true control over the NC files was achieved for the first time at IMC, according to Nichols. "Although we have to determine which files are valid, most of this process is automated through eXtremeDNC's Auto-Tagging and Auto-Naming filing features," he notes. These combined features automatically scan and rename an NC file, according to the inserted information found within that specific file.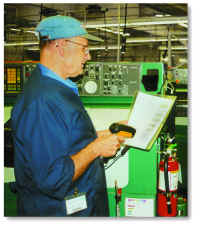 Once the process of file standardization had taken place, Nichols proceeded to monitor and reduce the time needed to request NC files at the machine tools. To do this, he began using the Remote Request protocols in eXtremeDNC. These protocols allow operators to call up programs directly from their controls. Nichols reports, "This was so easy, 85% to 90% of the operators loved it. They could simply punch in the file name and number at their control, and eXtremeDNC would instantaneously send up the requested file."
Advanced Features Speed Production
Although the 77% reduction in weekly overtime was very impressive, IMC is confident that there is room for further improvement. Nichols spoke to Tim Carson at Ascendant Technologies, and Carson recommended using bar code scanners and integrating offsets and tool presetters into eXtremeDNC.
The bar code scanners enable the operators to scan a part number, which tells eXtremeDNC to send the NC file directly to the requesting machine. "Integration reduced our production time from 25 minutes per part to three to four minutes per part," says Nichols. To automate the process further, an interface was made to connect eXtremeDNC into the offsets and tool presetters. This integration removes any manual operation during the cutting process. According to Nichols, "We no longer have mistakes related to wrongly requested files."
Since, eXtremeDNC has been able to automate most of the process, IMC has increased their manufacturing speed. Nichols reports, "Our operators now have more time to inspect parts and anticipate problems, which has led to improved quality. We anticipate that our efficiency will increase by 350% over the next year."
To improve IMC's manufacturing even more, an advanced feature was installed that enables IMC to set up the entire cell at one time, including materials, heads, offsets, SPC (statistical process control), and presetter. Files are sent in a DNC format to overcome the limited memory of the machine tool's control. In reality, a bidirectional communications line is established during file loading. (eXtremeDNC is believed to be the only software system that is capable of this.) The bidirectional communications line enables SPC data to be received during DNC. This allows IMC to modify programs on the fly in order to fit the needs of the parts with respect to materials.
Ultimately, these operational techniques will enable IMC to anticipate production of a family of parts and, since the cell is already geared to manufacturing that specific part, quickly manufacture the entire lot. This will eliminate any mistakes that may occur at the controls and further improve cycle time. "We will be able to manufacture the entire lot of parts much faster that way," says Nichols. "By bringing our parts into the market first, we will be able to maintain our position as market leader."
When asked what IMC anticipates in the near future, Nichols notes, "Our goal is to eliminate all overtime. We would like to create shifts that are based on production rather than hours. That is, we will give a certain number of parts to a person to complete by the end of his/her week shift. If that person is done before the end of the week, they can go home, and we will still pay them for the entire week."
As far as having encouraging words for machine shops, Nichols advises, "If you can't streamline and become efficient by automating, you can't compete in the market. Just consider the small cost of eXtremeDNC and compare it to your losses, which are occurring every hour of every day. Your operators will love the ease of the system, and they will begin to spend more time inspecting and improving the quality of their manufactured parts."
The DNC system is expected to pay for itself within the first two months of its operation. After that time, it will continue to help increase production, efficiency, and profits. "If you don't move with new technology, your shop will be left behind," Nichols adds. "Those who are most efficient and cost effective, and are able to deliver the products to the market quicker will be winners." Ascendant Technologies, Inc.
Modern Application News Magazine
October 2001

For More Information Contact:

Ascendant Technologies, Inc.
751 S. Weir Canyon Road - Suite 157 Unit 364 - Anaheim Hills, CA 92808
Tel: 800-792-1105
FAX: 866-728-0967
Internet: sales@ascendtec.com